Thinking about taboos with Belgian artist Thibeau Scarcériaux
Design is all around. There's good design, and there's bad design. And then there's design that makes us think. Through his work, Belgian functional artist Thibeau Scarcériaux explores the power of making people think – and talking about taboo subjects.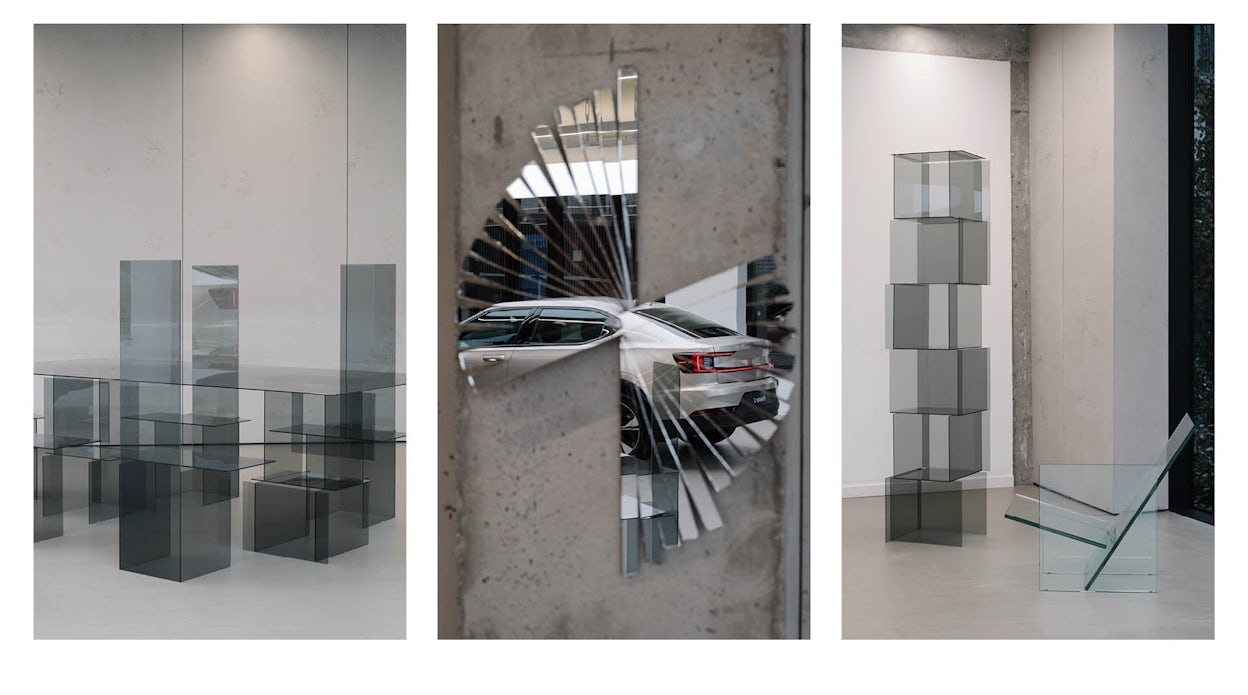 The sweet spot between art and design
Located on the outskirts of Antwerp, Thibeau works out of an abandoned fire department planned for demolition in 2025 - an ideal studio for an up-and-coming artist. But right now, the space is filled with 70's furniture, hanging bicycles, x-rays, aluminium-foiled air vents, and hundreds of pieces of glass.
Thibeau's career has taken him through multiple design disciplines, such as industrial product design and furniture design, and has landed him in the sweet spot between design and art.
"In my view, there's a fine line between art and design. I love both, and so my work sits between the two. I want to make unique pieces that are functional, yet have that hand-made, artistry quality to them," he comments.
Once Thibeau starts working on an object, most of its creation has already taken place in his mind. Some of his ideas brew in his think tank for months on end, years even, before they turn into something tangible.
"Timewise, I spend like 90 percent of the time thinking about the story of an object, and then 10 percent goes into creating the piece. It's more about thinking about how something will live on and less about making it," he comments. "It's a weird process. Sometimes it takes a week in total – and sometimes it takes years."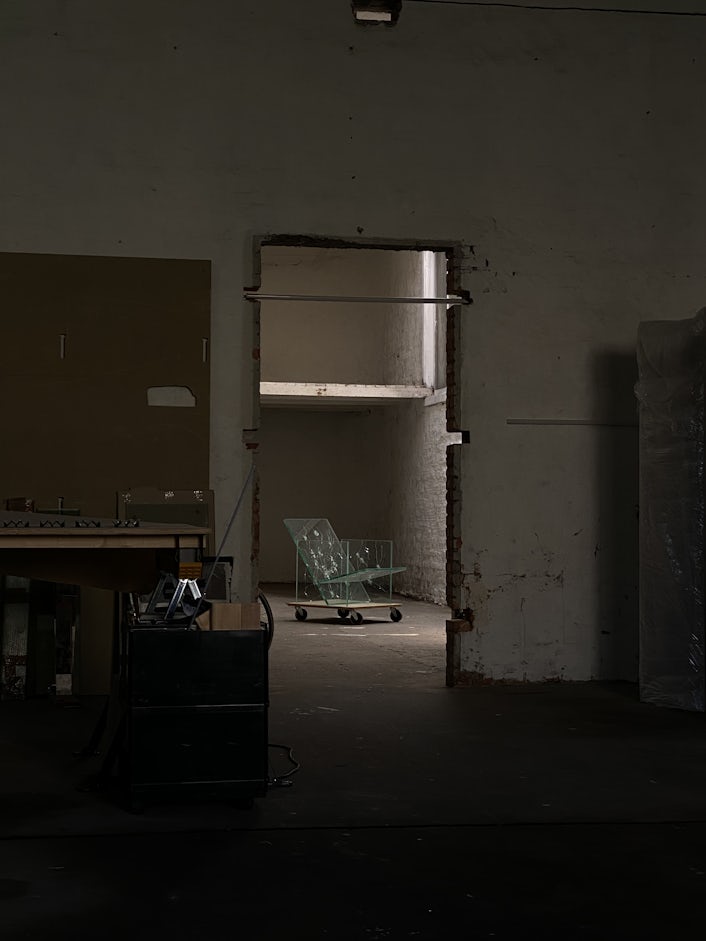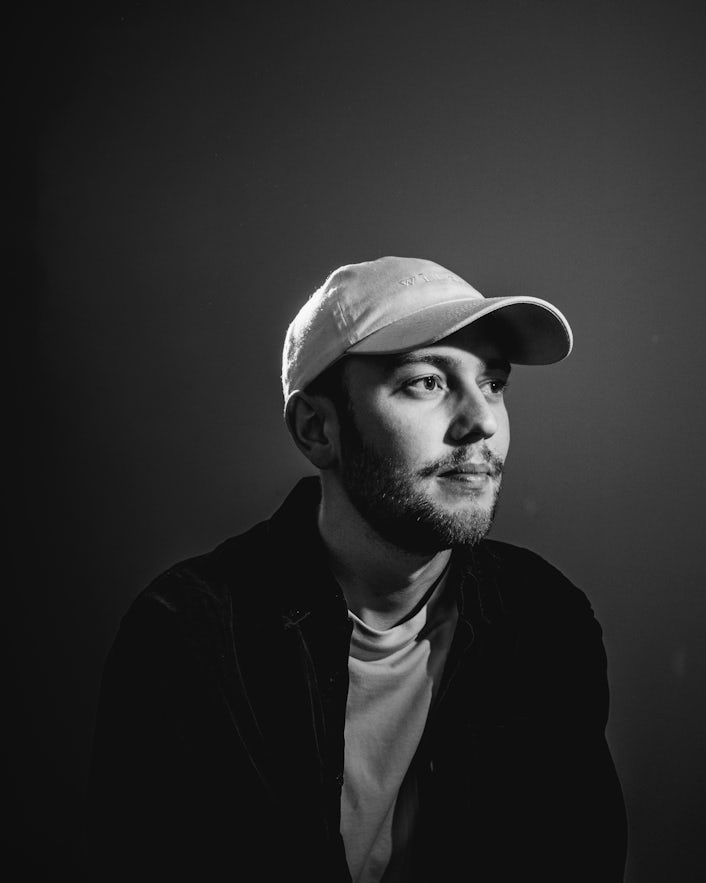 Thinking about making things and making things to think about
Thibeau is fascinated with the concept of taboos. Most of his pieces explore the social, cultural, or economic aspects of a taboo subject. Through this exploration, he wants to create a dialogue between his work and the viewer. And when possible, between him and the viewers.
"Art creates a route into talking about taboos. The objects create a point of conversation between the viewer and the artist. Really, it's more about the conversation surrounding the artwork than the object itself," he explains. 
One of his latest pieces, the War Chair, is an example of a thought-through and thought-provoking piece.
Deeply affected by the Ukrainian-Russian war, Thibeau created a chair from bulletproof glass without visible connections, giving the chair an uninterrupted quality. This seamlessness is, however, broken off by the bullet marks, shattering the glass in multiple places, to represent the fragility of war. The artwork is meant to prompt the viewer to think about the physical and emotional destruction of war and the invisible scars it leaves on individuals and societies.
The prompt worked. Thibeau has experienced no shortage of people wanting to discuss taboos with him. "We're not talking one-minute conversations. There are conversations that take up to 20 minutes. People have a lot to say about things like this," says Thibeau. "I think it's so important to create that space for dialogue. It's what unites people."
Inspiring flea markets
Most of the time, Thibeau will think about a taboo or a concept for a long time before it comes to life. Other times, the material will come first and the idea later.
Thibeau regularly visits flea markets to get inspired and to stock up on his collections. For he is a collector of things. Things like glass and x-rays, that may one day inspire him to make something meaningful. 
For a while, his space was filled with 2000 square meters worth of x-rays of human body parts that he found at a flea market. (A typical Belgian flea market, he ensures). These later became the "X-race collection", a series of objects inviting the viewer to reflect on the issue of racism, inspired by the Black Lives Matter movement.
For his exhibition at the Polestar Space in Brussels, he pulled out all the stops.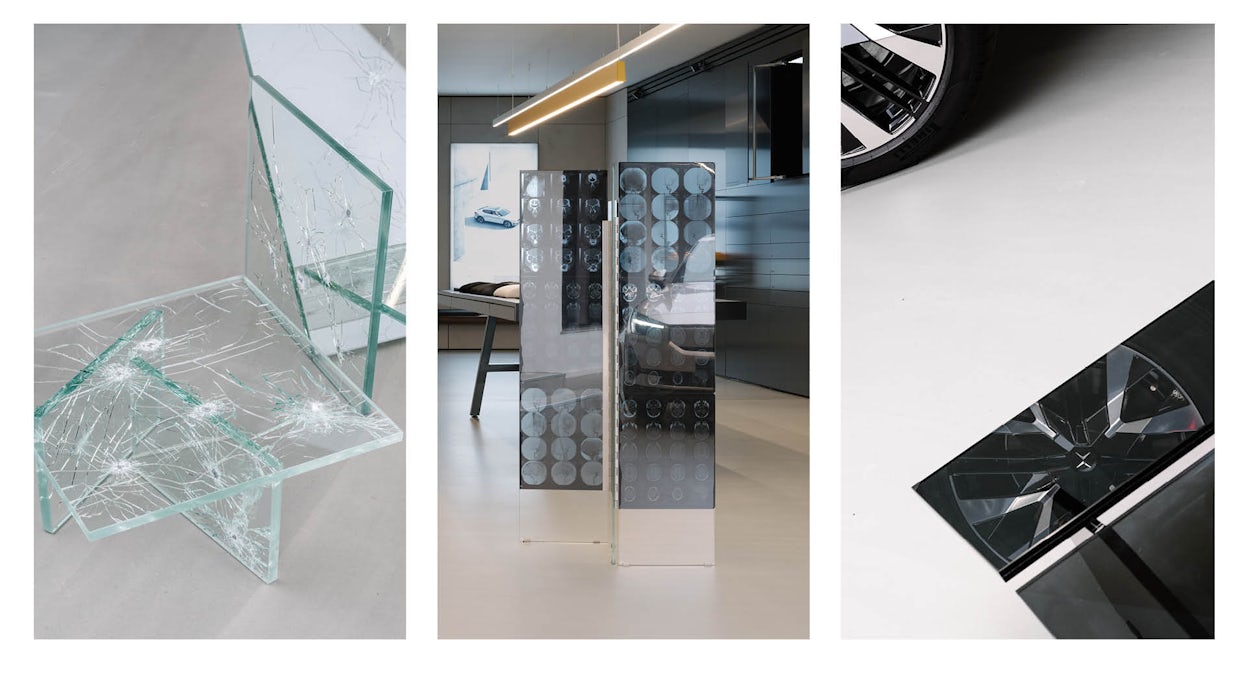 Polestar Gallery – a platform for local creators
For artists and designers, creation is only half the challenge. A lot of art is never given the platform it deserves. Polestar has set out to change that.
This fall, our Polestar Spaces in Brussels, Antwerp, Ghent, and Hasselt, open their doors to local designers from various disciplines to showcase their latest projects.
"By providing designers a platform for their creations, we hope to catalyse innovative ideas that not only inspire but also push boundaries," comments Femke Brouns, Head of Marketing, PR and Events, Polestar Belgium. "This initiative also reaffirms the empowering force of collaboration as a means to bring about meaningful change."
Thibeau is first out with his contribution named "Reflective Vision." Made from recycled glass and mirrors, the installation gives shape to a world where artistic expression and environmental consciousness go hand in hand. Not only does the creation breathe new life into these materials but it invites introspection and transparency.
If you're in Brussels this fall, the "Polestar Gallery x Thibeau Scarcériaux: Reflective Visions" exhibition is available from October 25 to November 21 in the Polestar Space Brussels.
Think about it.