Specifications
| Long range Single motor | Long range Dual motor | Long range Dual motor with Performance pack |
| --- | --- | --- |
| $49,900 MSRP | $55,300 MSRP | $63,000 MSRP |
| - | Pilot pack | Pilot pack Plus pack |
| Single motor 220 kW | Dual motor 310 kW | Dual motor 335 kW |
| Rear-wheel drive | All-wheel drive | All-wheel drive |
| 220 kW / 299 hp | 310 kW / 421 hp | 335 kW / 455 hp |
| 361 lb-ft | 546 lb-ft | 546 lb-ft |
| 5.9 seconds | 4.3 seconds | 4.1 seconds |
| 127 mph | 127 mph | 127 mph |
| 320 mi (EPA) | 276 mi (EPA) | 247 mi (EPA)* |
| Up to 2000 lbs | Up to 2000 lbs | Up to 2000 lbs |
| 400 V Lithium-ion battery 82 kWh capacity, 27 modules | 400 V Lithium-ion battery 78 kWh capacity, 27 modules | 400 V Lithium-ion battery 78 kWh capacity, 27 modules |
Steering

Electric power steering with three modes: light, standard and firm

Manually adjustable steering column


Drivetrain

All-wheel drive with all dual-motor variants

Rear-wheel drive with all single-motor variants


Brakes

2-piston aluminium, 345x30 mm (front) and 340x20 mm (rear) ventilated discs

Swedish gold Brembo four-piston fixed aluminium front calipers with drilled ventilated discs (with Performance pack)

Chassis

Polestar Engineered performance chassis (with Performance pack)

Standard dynamic chassis

Suspension

Öhlins Dual Flow Valve (DFV) Manually adjustable dampers (22 settings) front and rear (with Performance pack)

Twin tube, single-flow valve shock absorbers

McPherson strut (front), Multi-link (rear)

Turning circle (curb to curb)

37.7 ft
(A) Ground clearance

Front:
5.9 in (5.7 in with Performance pack)

Rear:
6.6 in (6.3 in with Performance pack)

(D) Car height

58.2 in (58 in with Performance pack)

(E) Cargo length to rear seat back measured at the height of the floor

39.4 in

(F) Cargo length to front seat back measured at the height of the floor

69.9 in

(G) Rear opening height

21 in

(H) Cargo floor height to ground

26.3 in
(I) Cargo floor width (between wheel housings)

38.7 in

(J) Front track width

63.1 in

(K) Rear track width

63 in

(M) Car width including folded-out door mirrors

78.1 in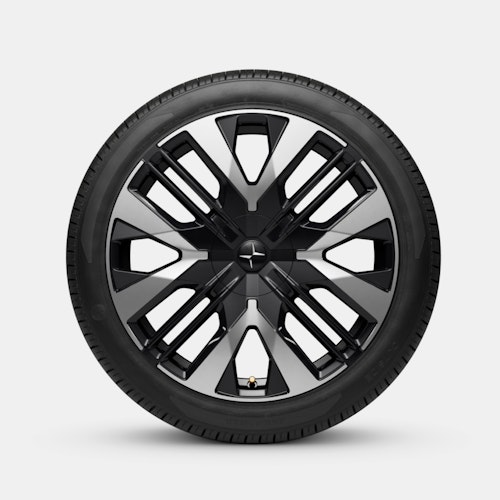 20" 4-Multi spoke black polished forged wheel
245/40R20 Performance tires
245/40R20 Performance tires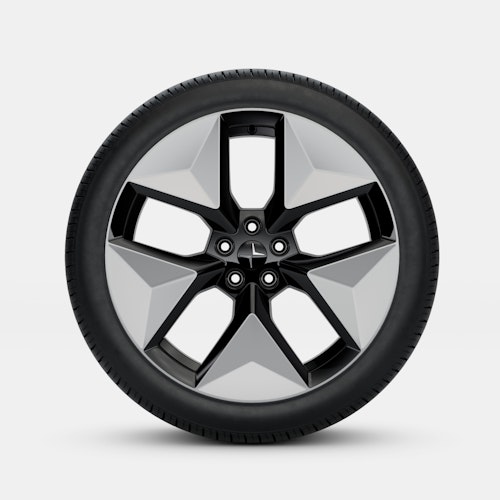 20" 5-V Spoke Black Silver Alloy Wheel
245/40R20 A/S tires
245/40R20 A/S tires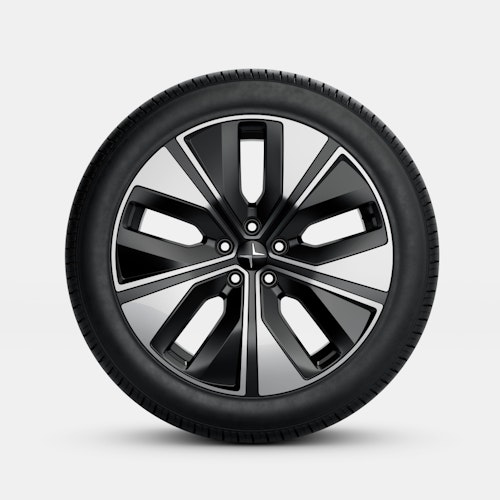 19" 5-Double spoke black diamond cut alloy wheel
245/45R19 A/S tires
245/45R19 A/S tires
Mirrors

Frameless mirrors

Wide-angle view

Electrically adjustable

Heated

Automatically folding

Curb view (when backing up)

Automatically dimming

Lighting

Daytime running lights

Active high beam

Pixel LED headlights 

Windshield

Heated windshield wiper nozzles (with Plus pack)

Rain sensors front

Door handles

Touch-operated locking and unlocking with integrated ground lighting. Requires the car's remote key or Polestar app to work.

Doors

Five doors including a roof-hinged tailgate

Towbar hitch

Semi-electric automatic towbar hitch (available as an extra)
Upholstery materials

Animal welfare traced Nappa leather 

Vegan WeaveTech

Embossed textile

Interior themes

Ventilated animal welfare Nappa leather in Zinc with Light Ash deco (only available with the Plus pack)

Slate WeaveTech with Black ash deco interior (with Plus pack)

Charcoal WeaveTech with Black ash deco interior (with Plus pack)

Zinc Embossed textile with 3D Etched deco interior

Charcoal Embossed textile with 3D Etched deco interior

Seats

Full power seats including 4-way power lumbar support (memory on driver seat), mechanical extension and backrest storage nets (with Plus pack)

Semi-electric front seats with mechanical backrests and 4-way power adjustable lumbar support

Rear seat 40/60 split with ski hatch

Ventilated front seats (only available with Nappa leather)

Center console

11.2" large center screen

Android Automotive OS

Interior lighting

Interior high-level illumination (with Plus pack)

Interior mid-level illumination

Climate

Electronic climate control, dual zone

Climate timers

Air filtering

Air quality system, including dedicated particulate sensor and air quality app (with Plus pack)

CleanZone®

Steering wheel

Heated steering wheel (with Plus pack)

Manually adjustable steering column

Drive selector

Polestar gear selector with backlit symbol

Device charging

15 W wireless charging in the front

Four USB-C connectors (2 front, 2 rear)

Cup holders

4 cup holders (2 front, 2 rear)

Seat storage

Front seatback storage nets (with Plus pack)

Rear storage compartment

407-liter (14.4-ft³) cargo capacity with seats up, including under floor

1097-liter (38.7-ft³) cargo capacity with seats folded, including under floor

"Lid-in-lid" grocery bag holder (with Plus pack)

12 V power outlet

Front storage compartment

33 liters (1.2 ft³) cargo capacity
| Long range Single motor | Dual motor versions |
| --- | --- |
| 82 kWh | 78 kWh |
| Up to 205 kW | Up to 155 kW |
| 10-80% in 28 min | 10-80% in 34 min |
| 0-100% in 8 hrs | 0-100% in 8 hrs |
| 12A / 40A, Type 1, 1-phase, AC charging cable for use with a home charger or charging point | 12A / 40A, Type 1, 1-phase, AC charging cable for use with a home charger or charging point |
Driver display

12.3" instrument panel

LCD screen

Advanced lighting technique to ensure optimal visibility in all light conditions

Center display

11.2" center display

LCD screen

LCF (Light Control Film) anti-reflective, easy-to-clean coating

Advanced lighting technique to ensure optimal visibility in all light conditions

Audio system (Plus pack)

Harman Kardon Premium Sound

600-watt amplifier

13 interior speakers including air-ventilated subwoofer

Audio system (Standard)

High-performance audio

250-watt amplifier

8 interior speakers

Keys

2 x keys 

Polestar digital key (with Plus pack)

Memory function

Up to six driver profiles. Stored preferences include seat position, mirror adjustments, steering feel, one-pedal drive settings, favourite apps and playlists.

Connectivity

Bluetooth

Internet connectivity

Over-the-air (OTA) updates

Polestar Connect

In-car apps³

Vivaldi browser

Spotify

Google Maps

Google Assistant

Apple CarPlay
Park Assist

12 sensors, front, rear and sides

Cameras

Four cameras, providing a 360º view

Preventive safety

ADAS: Advanced Driver Assistance Systems

Understeer Control Logic

Electronic Stability Control

Driver Steering Recommendation

Trailer Stability Assist

Regenerative Stability Control

Traction Control

Adaptive Cruise Control (with Pilot pack)

Pilot Assist (with Pilot pack)

Speed Limiter (with Pilot pack)

Collision avoidance/mitigation with:

other vehicles at intersections

Nighttime collision warning

Lane Keeping Aid

Lane Departure Warning

Run-off Road Mitigation

Oncoming Lane Mitigation

Driver Alert Control

Rear Collision Warning and Mitigation

Cross Traffic Alert with brake support

Road Sign Information

Blind Spot Information with steer assist

Post-impact braking

Direct tire pressure monitoring system

Protective safety

Boron steel safety cage

Mixed-material crumple zones for optimal energy absorption

Collapsible steering column

Automatic unlocking in a collision

Seat belt tensioners

Seat belt load-limiters

Reversible retractor belts

Whiplash Injury Protection System

Alarm with inclination and interior motion sensors

9 airbags (front airbags, side airbags, inner-side airbags, inflatable curtains, driver knee airbags)

Load-securing eyelets

Electric child safety locks

iSize/ISOFIX mountings (Rear seats)

Emergency equipment

North American repair kit
| Long range Dual motor | Long range Dual motor with Performance pack |
| --- | --- |
| 310 kW / 421 hp (tuned for range and drivability). | Performance software upgrade 335 kW / 455 hp |
| 19" 5-Double spoke black diamond cut alloy wheel | 20" 4-Multi spoke black polished forged wheel |
| 2-piston aluminum, 345x30 mm (front) and 320x20 (rear) ventilated discs | Swedish gold Brembo four-piston fixed aluminium front calipers with drilled ventilated discs (with Performance pack |
| Twin tube, single-flow valve shock absorbers | Öhlins Dual Flow Valve dampers with 22 settings |
| Standard dynamic chassis | Polestar Engineered performance chassis |
| Standard seat belts | Swedish gold seatbelts |
| Standard | Plus pack (included with Performance pack) |
| --- | --- |
| Steel roof | Full-length panoramic roof, projected Polestar symbol |
| High-performance audio | Harman Kardon Premium Sound |
| Power seats with mechanical backrests and 4-way power lumbar support | Full power seats including 4-way power lumbar support, mechanical extension and backrest storage nets |
| Charcoal or Zinc Embossed Textile upholstery with 3D-Etched deco inlays | Vegan WeaveTech upholstery in Charcoal or Slate with Black ash deco inlays |
| Heated front seats | Heated steering wheel, front and rear seats, windscreen wiper nozzles |
| CleanZone® | Air quality system, including dedicated particulate sensor and air quality app |
| - | Digital key hardware that connects to the Polestar app to lock, unlock, and start the car when it detects an authorized smartphone. |
| Power-operated | Power-operated with foot sensor |
| - | Complementary to the climate system, using surplus heat from the powertrain and the ambient air to control temperature and increase real-life range |
| Interior mid-level illumination | Interior high-level illumination |
| 405 liters (14.3 ft³) expandable to 1095 liters (38.7 ft³) (folded backrest) with ski hatch and 12 V connection | 405 liters (14.3 ft³), expandable to 1095 liters (38.7 ft³) with ski hatch, 12-volt connection and "lid in lid" storage with grocery bag holder |
Seats

Ventilated front seats

Upholstery

Ventilated animal welfare Nappa leather in Zinc

Deco

Light Ash deco inlays
| Standard version | Pilot pack (included with Long range Dual motor) |
| --- | --- |
| - | LED front fog lights with cornering function |
| Safety assistance with Run-off Road Mitigation, Oncoming Lane Mitigation, Lane Keeping Aid, Post Impact Braking, Connected Safety, Driver Alert Control, Road Sign Information and Speed Limiter | All safety assistance systems plus driver awareness with Adaptive Cruise Control, Pilot Assist, Emergency Stop Assist |
Towbar

Semi-electric towbar

Utility

Load carrier rails

Floor-mounted eyelets for luggage compartment

Mats

Reversible plastic/textile luggage compartment mat (with protective bumper cover)

Plastic front and rear passenger floor mats

Performance

Lowering kit for Performance pack. Reduces the ride height by 20 mm (0.8 in).
Direct use CO2 emissions⁴

Long range Single motor: 0 g/km

Long range Dual motor: 0 g/km

Long range Dual motor (Performance pack): 0 g/km

Cradle-to-gate CO2 emissions⁵

Long range Single motor: 22.4 metric tons CO₂e

Long range Dual motor: 23.2 metric tons CO₂e
4-year vehicle warranty

First 4 years after delivery, regardless of a change in ownership, or 50,000 miles, whichever comes first.

8-year battery warranty

Any material defect in the lithium-ion battery pack.

First 8 years of ownership or 100,000 miles, whichever comes first.

If the battery's state of health (SoH) drops below 70% of its original capacity within the first 8 years of ownership, the battery will be replaced at no cost.

12-year corrosion warranty

Repair or replacement of the affected panel, if the corrosion is due to faulty materials or construction.

First 12 years of ownership.
Service points

Scheduling service for your Polestar is easy, and available by contacting Polestar support. Our service experts ensure that your car only leaves the workshop once everything is completed to the highest standards and are ready to help with maintenance, repairs and software updates.

Find a nearby service point

Maintenance

Every Polestar 2 comes with free, scheduled maintenance for the first three years of ownership, or 30,000 miles, whichever comes first.

Its on-board diagnostics will notify the driver if additional service is necessary, and regularly scheduled over-the-air updates will keep Polestar 2's operating system, apps and car systems as cutting-edge as when they were first released.  

Roadside assistance

Every new Polestar 2 comes with 3 years of complementary roadside assistance, available 24 hours a day, 7 days a week.

If our technicians can't repair the car at the breakdown location, it will be towed to the nearest service point, free of charge.
1. Certified performance figures. Results may vary based on environment, road conditions, driving style, and vehicle load.
2. 
This is an electric vehicle. Since electricity is not measured in gallons, a conversion factor is used to translate the fuel economy into miles per gallon of gasoline equivalent (MPGe). EPA-estimated combined 124 city/106 highway/115 combined MPGe figures have not been released. Use for comparison purposes only. Your MPGe will vary for many reasons, including but not limited to, driving conditions, how and where you drive, how you maintain your vehicle, battery-package/condition, and other factors. See www.fueleconomy.gov.
3. Google, Google Play, Google Maps and YouTube Music are trademarks of Google LLC. Google Assistant and some related features are not available in all languages or countries. See g.co/assistant/carlanguages for updates to language and country availability. Not all services, features, applications or required compatible devices are available in all languages or countries, and may vary by car model. For more details, visit the Help Center, sites for Google Assistant, Google Maps, Google Play, or the car manufacturer site.

4. Direct use CO2e emissions: an electric vehicle produces no direct use emissions during everyday driving, however its indirect emissions depend on the type of electricity used to charge its battery. Read more about Polestar's view on emissions.

5. Cradle-to-gate CO2e emissions: emissions produced during the phases of the product's life cycle from material production through to manufacturing, but excluding the use phase and end-of-life phase. Read more about cradle-to-gate emissions.